Well Internet… not gonna lie… it's been a rough couple of months. Good things have happened! Things have been good! But also – hard. REAL TALK! I've been sick, the cat's been sick… I went to Colombia, I came back to England, I turned in my PhD, I got sick with a flu which I still have, I saw Tori Amos perform twice, I went to Manchester, I went to London (several times), I went to Charleston (near Brighton), I went to Cheltenham, I went to Sheffield, my job started up again, I trained for a half-marathon, I hurt my ankle, I moved house, I threw a house party, the cat had a manky eye, the cat kept eating her food too quickly and vomiting it up constantly (a symptom of a bigger problem?), the cat let other neighborhood cats wander in through the cat door and blinked indifferently at them as they ate all her food, (though I suppose this was better than her fighting with them)! The cat door has since been blocked with the cardboard box filled with my great-grandmother's china; plans to purchase a chipped cat door are underway. I put my books on my new bookshelves, alongside all the books from my grandmother's now empty house. Books in Afrikaans from my mother's South African childhood, giants atlases of birds and plants and insects, my grandfather's hymn books, so many orange and white Penguin paperbacks. The past and present is all jumbled together on these shelves, and maybe that's the way I like it; maybe that's the way it should be.
In September I only read one book: Return to Howliday Inn, part of the Bunnicula series, a childhood favorite. Vampire rabbits and cheesy puns–that was about all I could handle. I had the dreaded BRAIN FOG. Not as bad as in 2010, fortunately. But everything felt very hazy and muddled and far away. I felt very tired; my body ached. I wept in offices, often. But I think… maybe? Could they be? Are things… better? The cat still needs be taken in this afternoon for an antibiotic shot (there's blood in her urine… :( poor puss, please keep your fingers crossed for her). But maybe… things are okay? Is that possible? Is that something we can tentatively, daringly say? Like we're poking up our heads from underneath a manhole cover?
There are two books in particular (maybe three, depending on how long my energy for typing stays up) that I can vaguely wave at and say, You are responsible for this – for pulling me up and onwards. For returning me to life.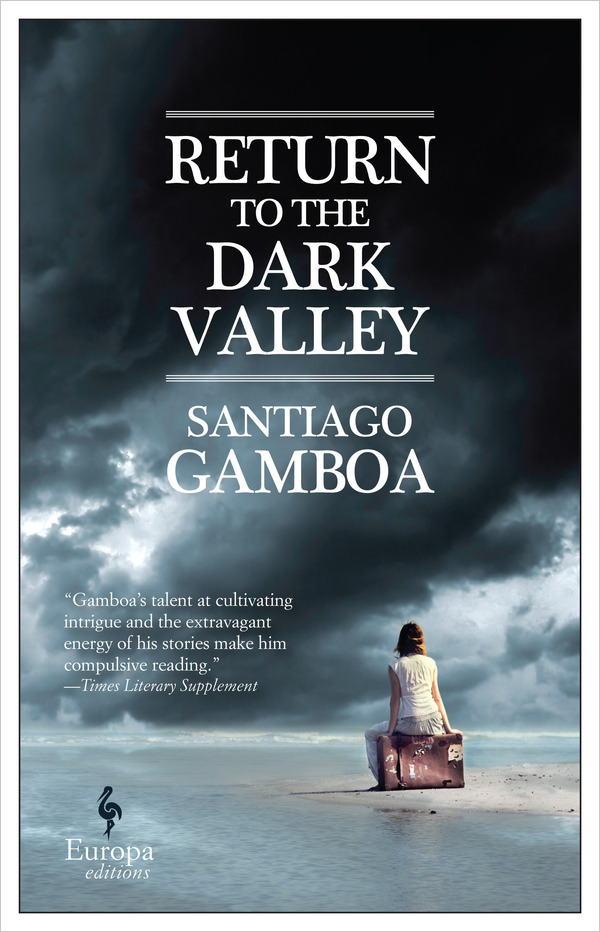 Return to the Dark Valley and Night Prayers (Santiago Gamboa)
It's good to write in the middle of the storm, although that may not sound very sympathetic to the country in which I live. It may even be immoral, despicable, but it's genuine. Literature is also written when the streets and running with blood, when the last hero is about to fall, riddled by a hail of bullets, or a child smashes its little head on the asphalt. What is good for writing doesn't always benefit the defenseless population around it. ("Return to the Dark Valley," loc 107 in my Kindle)
Now these two books, Return to the Dark Valley and Night Prayers–THESE are what you call NOVELS. I've been meaning to read Santiago Gamboa for a while, but as always, my access to untranslated books here in England is complicated (i.e. expensive and impossible). But! He's had three books come out in translation in quick succession (are there more in the way? I hope so!). He's from Bogotá, studied in Spain and Paris, has been publishing since 1995.
As I read these books (one in Colombia, one in England), I slowly felt life return to my body and brain. Bolaño is quoted in the epigraph of Dark Valley, and his influence is all over both books, particularly in regards to the highly readable translation. Sweaty sex … grime … drugs … violence … revenge … murder… poets … monologues by crazy Argentinian Nazis and paramilitary priests … Rimbaud… terrorists … a globe-trotting narrative, ranging from Thailand to India to Ethiopia … the question of home … the question of how you forgive and begin again … the question of how Colombia moves forward post peace process… I don't want to get into the plots too much, because I don't want to spoil them. Basically, these books were Christmas present for my withered, broken soul. They were exactly what I needed.
At one point in Dark Valley, a character comments that a story sounds like "one of those stories whose aim is to forge beauty out of the ugliest and dirtiest things in life," (loc 253) which feels like a good description of Santiago Gamboa's style. I love how fearless he is in terms of playing with genre – REVENGE. CRIME. DRUGS. I ate it up. And yet these books are so strange! They are definitely not commercial. Return to the Dark Valley in particular is very clever in the way it draws you in via its monologue format: characters narrate, stories are told, but you are not sure who they are, or who they are talking to, or for what reason. The way those answers are revealed is one of the biggest pleasures of the book. What would an essay about Rimbaud's life have to do with a monologue by a conservative paramilitary priest, or a mentally ill Argentinean Nazi claiming to be the son of a Pope, or a young female poet from Cali who is the victim of the most terrible crime a poet can imagine? You'll have to read this book to find out.
Kafka, who wrote the best literature in the twentieth century, was an obedient citizen. Any life can lead to literature, by the most convoluted and unexpected paths. "Literature is the sad path that takes us everywhere," wrote Breton. And not only that: in addition, it welcomes everyone, without an entrance test or letters of recommendation. Only what each person carries in his folder. (Loc 3253)

There's a kind of dignity in continuing to do things that nobody is interested in and nobody celebrates. (Loc 3539)

Oh, young Arthur, what did you expect? Every poet dreams of being acclaimed, which is why the first book is a terrifying moment: to give it over, not to patient and charitable friends, but to the eyes of strangers; a specific and very fragile order of words that has to give way, alone, to… To what? The young man wants his voice to be heard, wants someone to understand him. That is the sublime ambition of anyone who publishes a book and huddles in fear to await a reaction. The anonymous reader is cruel and unfair because that is how literature is; only he who is prepared to take the blows can enter it. (Loc 4637)

Stopping writing is possible, but stopping reading? That is more difficult. On this subject there are, as far as I know, no precedents. Readers who abandon reading? Someone who has read and loved book is like someone who has tried the coolness of water or the pleasures of sex or good food. He may stop cooking, but not eating. (Loc 5235)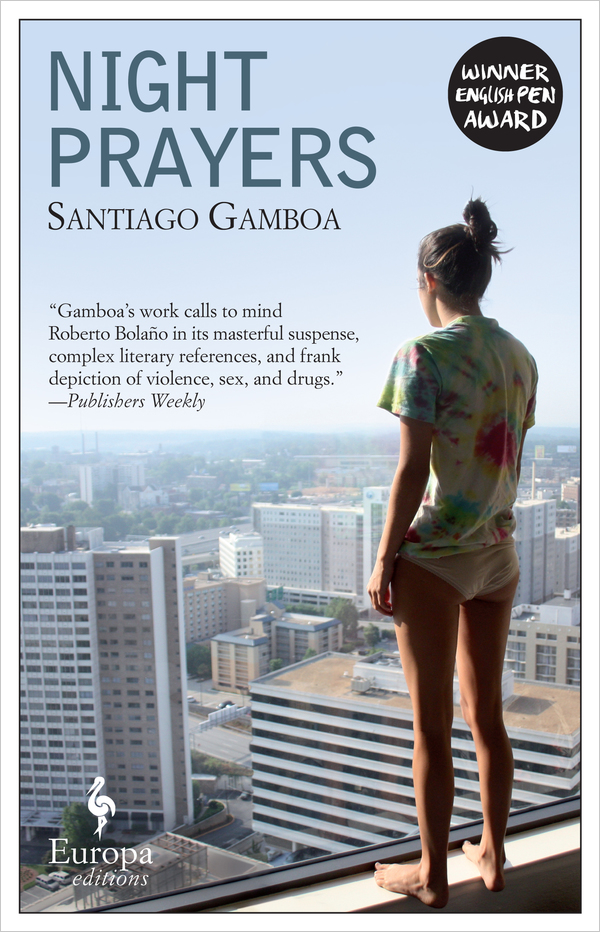 Night Prayers in particular took me a couple of tries to get into (see: BRAIN FOG), but once I got through the first chapters, what a read! My favorite thing about this book was its depiction of the years in which President Uribe assumes power, a time I remember very well, and thus it was very enjoyable for me to read. The contrast between the far-left daughter and her more conservative parents was particularly interesting for me. I love the Bolaño-esque style of Gamboa's sentences (long, rambling, building). I loved the international settings (Delhi, Bangkok, Tokyo, Bogotá, Tehran), and the way time zones made it difficult to communicate, and how living in a certain country can be like living in the future. I loved the sister's friendship with the old French academic, and their discussions on Colombia as a violent country ("don't forget," he tells her, "in the capture of Berlin by the Russian troops, which only lasted a few weeks, more people died than in a whole century of conflict in Colombia, so get the idea out of your head that this is a particularly violent country, because it isn't.") (221)
I did not understand the psychedelically narrated chapters entitled "Inter-Neta's Monologues" – was this the voice of the Internet? I thought it was the sister at first, but at the end it also seems to be the brother? Very mysterious. But it was nice to see this book do something so uncommercial and weird, even if I didn't understand it.
What was also very powerful about Night Prayers was its depiction of the sibling relationship – how weird is it that we don't often see this in literature? The love between siblings?
I highly recommend Santiago Gamboa for those interested in Latin American literature and stories about international violence.
"Why do you like this country so much? I asked, and he said, well, because it's mine, why else do you think? I love this fucking country, or rather, if you cut one of my veins what would come out is… Colombia! no more, no less, isn't it the same with you? and I said, no, what comes out of me is blood." (255)

"For many, to be a Colombian seemed to oblige us to deal with those themes in a particular way, which was why my generation and the ones after us were trying to escape all that, just trying to be a writer, and I added that in our part of the world, being a writer was a highly uncertain and probably unhappy existence because of the helpless state, the neglect and poverty in which most of writers grew old and died." (168)

"You realize you're a writer when the things that swirl or echo in your head won't let you concentrate on anything else: neither reading nor watching a movie nor listening to what other people are saying, not even your teacher or your best friend… If you are a writer, the worst thing is not to write. The bad news, given the times we live in, is that you can also tell yourself you're really fucked." (98)
The other book that I very quickly want to recommend is the brilliantly titled An Account of the Decline of the Great Auk, According to One Who Saw It by Jessie Greengrass. Full disclosure: I met Jessie at an event and you couldn't fathom a more humble, intelligent person (her family members very kindly gave me medicine for my illness, without which I would have been in a LOT of trouble – I was so congested I could only breath through my mouth!). You HAVE to read her book. It is such a strange, sad collection of stories. Lonely people dreaming of other places, encountering the dead, working dead-end jobs, animals dying and suffering. In a work less than 30,000 words, it'll be clear to you that you've never read anything like this (it reminded me most closely of Anna Metcalfe's stories). They're more like philosophical meditations, or essays, or even prayers. The short story, too, can heal.