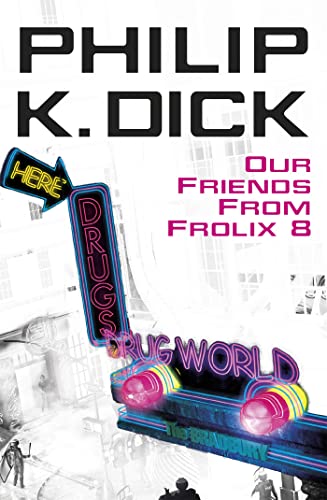 Ours Friends From Frolix 8 (Philip K. Dick)
'God is dead,' Nick said. 'They found his carcass in 2019. Floating out in space near Alpha.'

'They found the remains of an organism advanced several thousand times over what we are,' Charley said. 'And it evidently could create habitable worlds and populate them with living organisms, derived from itself. But that doesn't prove it was God.'

'I think it was God.' (45)
My dear friend Philip K. Dick. He never lets me down. I've had an exhausting few weeks of travel and work, and while things are a little calmer now, it's still not completely over. But that's okay. We can deal. Especially with help from good old Philip.
Our Friends From Frolix 8 is definitely one of the finer Philip K. Dick books I've read (and only $5.95 when purchased at the Strand in New York, bonus). You have a futuristic society organized by men's abilities–Old Men, trapped in dead-end, deadbeat jobs, the super intelligent New Men, who rule over society in a hierarchical, inaccessible order, and the Unusuals, who have psionic and telekinetic abilities and exist alongside the New Men in an an uneasy compromise. You have a Christlike leader of a revolution, Thors Provoni, returning to Planet Earth after years spent exploring the outer galaxies on his ship The Grey Dinosaur. And best of all, you have Morgo, the ninety-ton Godlike protoplasmic slime from the titular planet Frolix 8, who's accompanying Thors on his mission to create a new world order. What is it with Dick's obsession with sentient slime-molds? I LOVE IT.
'Let me tell you a legend about God,' Morgo said. 'In the beginning he created an egg, a huge egg, with a creature inside it. God tried to break the eggshell open to let the creature–the original living creature–out. He couldn't. But the creature which He had made had a sharp beak, constructed for just such a task, and it chipped its way out of the egg. And hence – all living creatures have free will, now.'

'Why?'

'Because we broke the egg, not He.'

'Why does that give us free will?'

'Because, dammit, we can do what He can't.' (78)
There are so oh so relevant modern themes in this novel, from surveillance, to what the world would be like if ruled by a paranoid, arrogant, verging on insane individual, to the role of God and religion. I love Dick's depiction of the bohemian revolutionary underclass; he is so good at evoking that deadbeat Berkeley culture of pillheads. He hasn't been that successful at writing interesting female characters in the past, but the sixteen-year-old Charley manages to be both complex and feisty in a non-annoying way. And I found myself genuinely moved by this moment near the end:
'To a better planet,' Gram said, and drank the cupful down. 'To a planet where we won't need our friends from Frolix 8.' (190)
Thank you, Philip K. Dick, for existing.
In terms of travel + readings, here are some photos! They are out of order, but I'm too tired to try to figure out how to fix it. So here we go :D